FY 2021 ACD Highlights
Highlights in 10 Charts

The Commission released the FY 2021 Annual Compliance Determination (ACD) on March 29, 2022, reviewing the Postal Service's compliance with the law, Commission regulations, and its service standards. Here are some of the ACD's key findings:
1. Getting Your Packages to You
The Postal Service maintains 800 current active domestic contracts with private businesses and other entities to ship items via the USPS' portfolio of package products. Between FY 2012 and FY 2019, the Postal Service saw rapid growth in this sector, peaking at 975 contracts in FY 2019.
Competitive Domestic NSA Products in Effect During FY 2021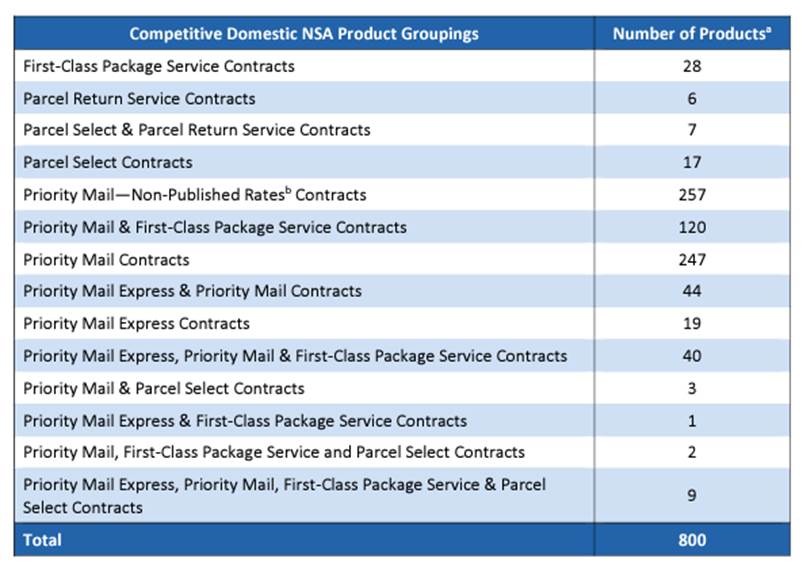 Source: Table IV-1, FY 2021 ACD at page 79
2. Am I Getting More Mail or Is That Just Me?
The Commission tracks the average volume per delivery point. The Postal Service handled approximately 129 billion pieces of mail in FY 2021 meaning that each delivery point received an average of 790 pieces for the year.
Volume per Delivery Point, FY 2017 – FY 2021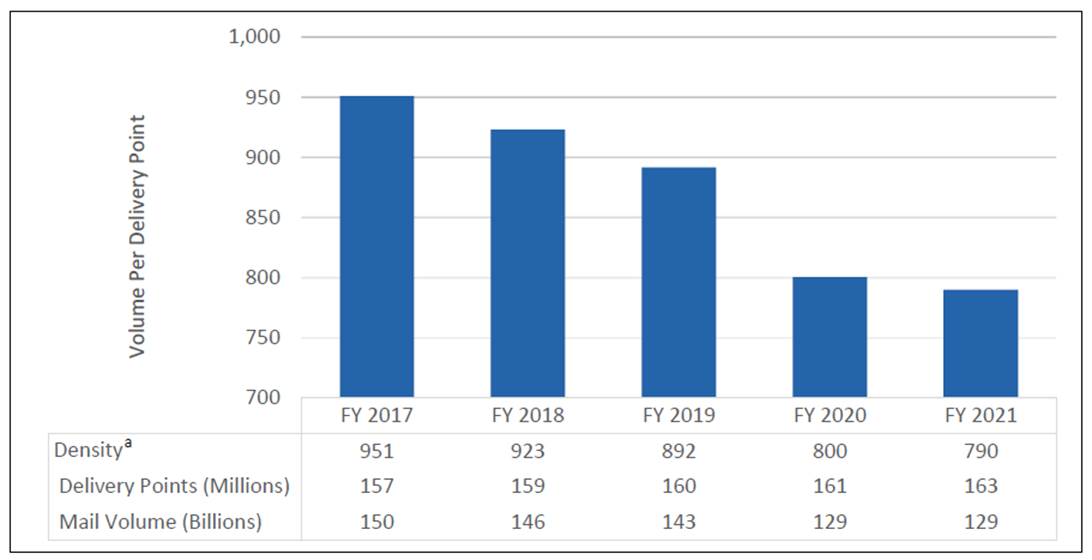 Source: Figure V-28, FY 2021 ACD at 212
3. What Is and Is Not On-Time
Due to several internal and external factors, 16 of 22 Market Dominant products failed to meet their service standards in FY 2021. This represents a slight improvement over FY 2020, due to the Special Services product Stamp Fulfillment Services exceeding its target.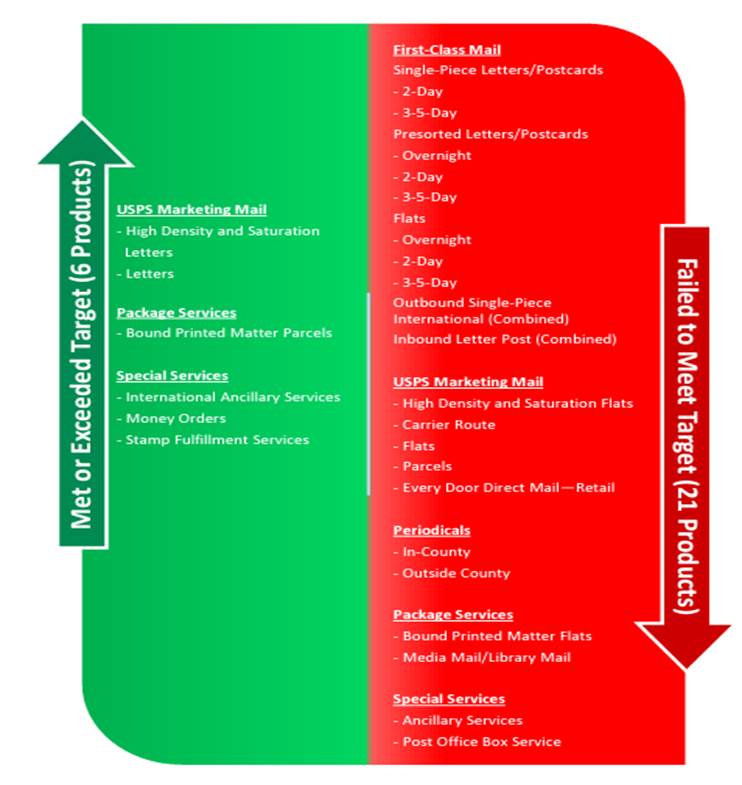 Source: Figure V-1, FY 2021 ACD at 107
4. Overall First-Class Mail Service Performance
For First-Class Mail specifically, the Commission analyzed how actual service performance measured up to the annual targets for FY 2021. In the chart below, SP means Single-Piece, LC means Letters/Postcards, PRST means Presort, Flats means Flat-Shaped Mail Products, Outbound Int and Inbound Int mean Outbound or Inbound Single-Piece International, respectively.
First-Class Mail
Service Performance Results, by Percent, FY 2021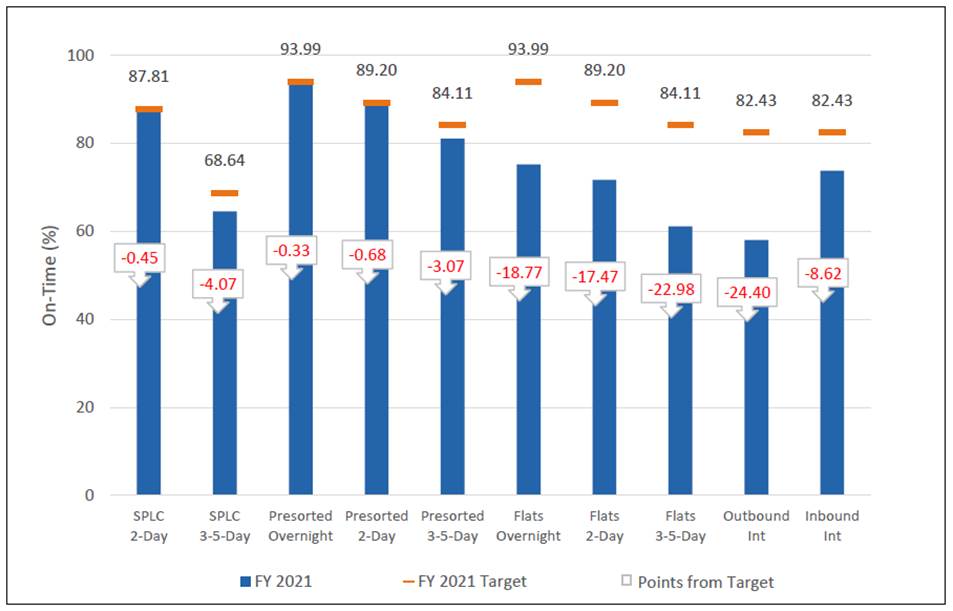 Source: Figure V-12, FY 2021 ACD at 140
5. Domestic First-Class Mail Service Performance
Taking a closer look at First-Class Mail, the Commission reviewed the quarterly results of FY 2021. The review demonstrated how the Postal Service suffers from the increased volumes of Quarters 1 and 2, which align with the holiday season. The figure below omits Outbound and Inbound International..
Domestic First-Class Mail
Service Performance Results, by Quarter, FY 2021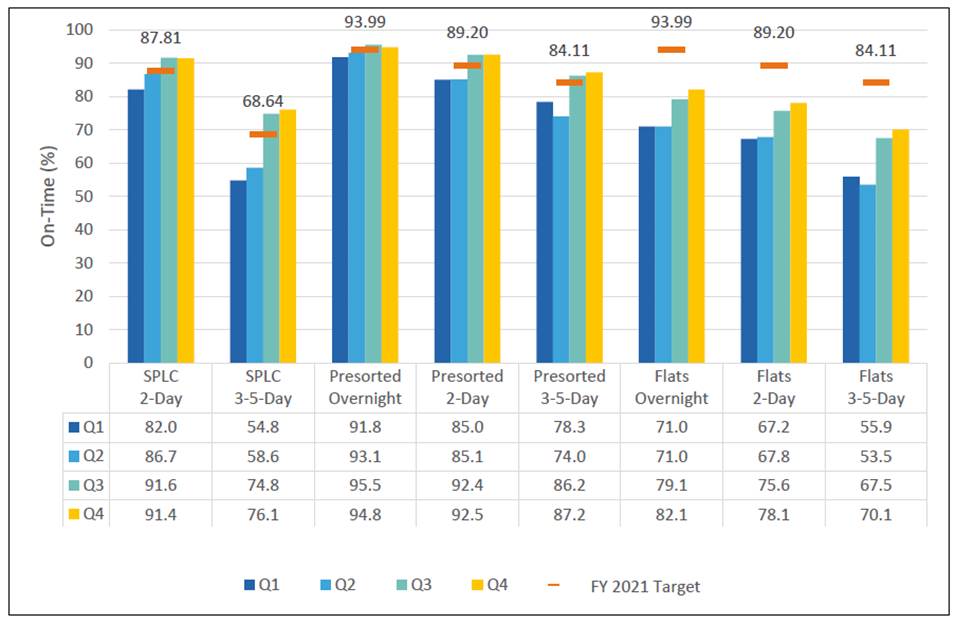 Source: Figure V-13, FY 2021 ACD at 145
6. Physical Locations
The Postal Service requires physical infrastructure to exist, operate, and interact with their customers. The Commission monitors these numbers to ensure that the Postal Service maintains its ability to provide access to citizens across the United States.
Number of Retail Facilities, FY 2019 – FY 2021



Source: Table V-14, FY 2021 ACD at 205
7. Post Office Suspensions
The Postal Service uses the suspension process to halt service at offices for a variety of reasons, such as lease issues or debilitating damage from inclement weather. The Commission has observed that some offices appear to sit on the suspended list for longer than one might expect, and thus it opened a Public Inquiry Docket (PI2022-1) into the matter.
Post Office Suspension Activity during FY 2021



Source: Table V-15, FY 2021 ACD at 207
8. "I Could Have Sworn a Blue Box Was There a Month Ago"
The Commission tracks the number of collection points available to the Postal Service, such as the blue boxes seen around city and neighborhood streets.
Number of Collection Boxes, FY 2017 – FY 2021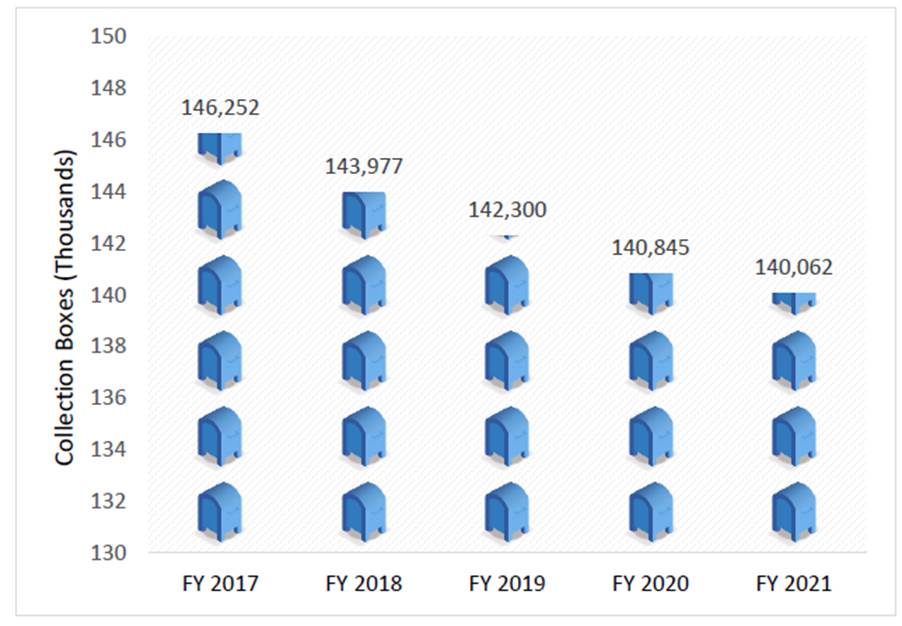 Source: Figure V-29, FY 2021 ACD at 213
9. Staffing
The Postal Service saw a range of employee availability over the past three years. In trying to determine how the ongoing pandemic affected the Postal Service, the Commission learned that the Postal Service suffered the most significant absenteeism in "hot spots," which led to problems in processing, transporting, and delivering of normal volume. Additionally, the Commission learned that on average, individual use of COVID-19 pandemic-related leave was slightly more than 2 weeks (87.6 hours).
Employee Availability, by Month, FY 2019 - FY 2021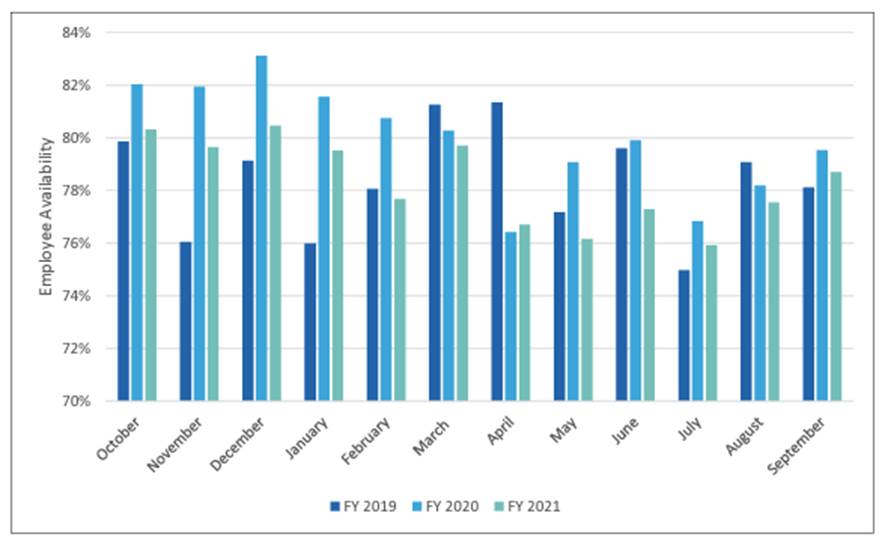 Source: Figure V-2, FY 2021 ACD at 109
10. Negative Contribution of All Flat-Shaped Products
Flat-shaped mail products like catalogs and magazines have been non-compensatory since FY 2018, with its negative contribution growing each year. The ACD demonstrated that the root causes of this are persistent operational and financial problems of processing these products, which are larger than letters, but not considered parcels.
Flats Contribution and Volume, FY 2017 – FY 2021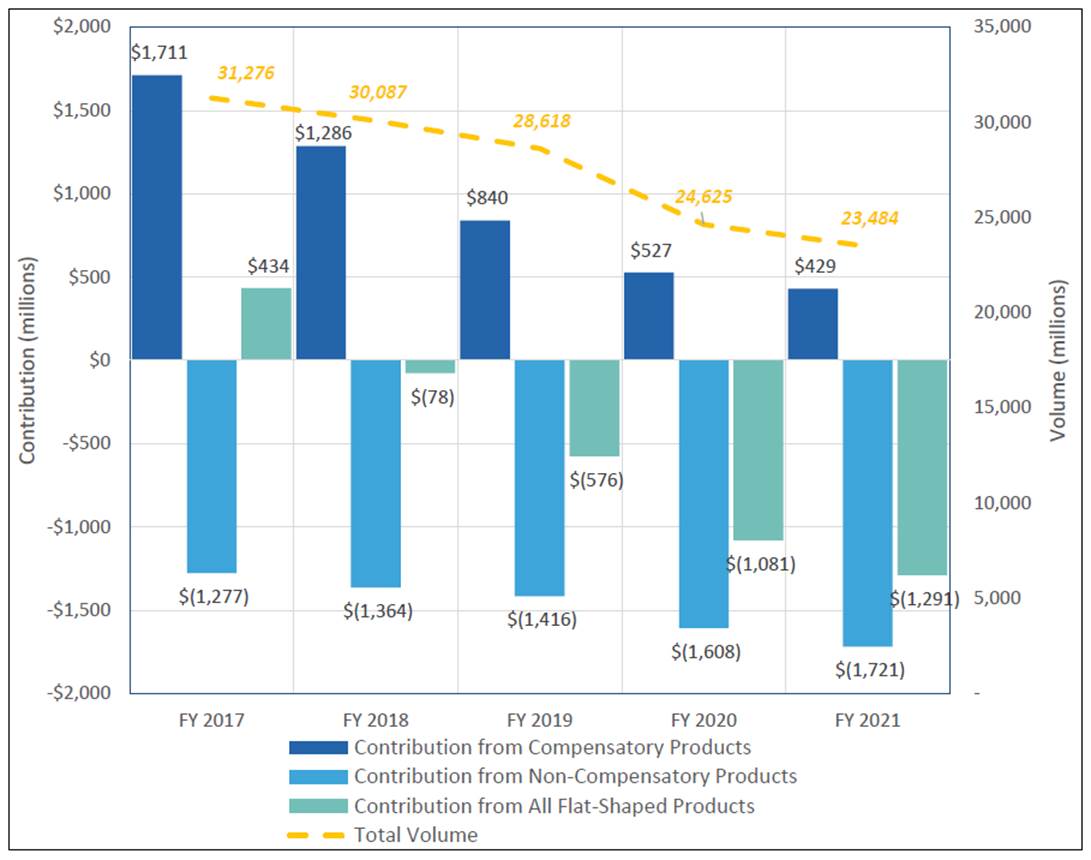 Source: Figure VI-1, FY 2021 ACD at 231